Fantasy games that rely on popular sports like cricket, soccer, kabaddi grew at 100% since 2018 in India. The online gaming industry grew 40 percent in 2019 to reach INR 65 billion and is expected to reach INR 187 billion by 2022 at a CAGR of 43 percent.
The increased penetration of low-cost smartphones coupled with affordable internet costs is said to be the catalyst for the recent growth of fantasy sports in India. However, the absence of any specific legislation or regulation turned out to be a hold-up in the growth story of fantasy sports.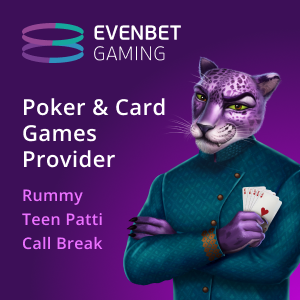 Gaming is currently regulated by decades-old gaming legislations that were primarily enacted to regulate gaming in physical environments, on the theory of functional equivalence. The social stigma attached to poker and other card games has also turned out to be a challenge to fantasy gaming portals.
The fantasy gaming entities include Dream 11, My 11 circle, My Team 11, Howzat Fantasy, FanCode, 11wickets, etc, which have received millions of dollars in funding. Dream 11, in fact, sponsored the 2020 edition of the cash-rich Indian Premier League.
Online Gaming Laws and Fantasy Sports in India
Gaming for stakes has a prominent role in Mahabharat, the ancient Indian epic, and has several references in Indian literary texts. In modern India, gaming for stakes is either prohibited or a heavily regulated activity. Under the Constitution of India, gambling and betting fall under List II of Schedule VII (State List), and states are empowered to enact laws to regulate the said activities in their respective territories.
Subsequently, the Public Gambling Act, 1867 ("PG Act"), pre-independent legislation was adopted by the majority of Indian states and the remaining states enacted legislations of their own (collectively referred to as "Gaming Legislations").
Gaming or in some cases gambling is defined in the majority of Gaming Legislations as to include acts of wagering or betting except wagering on a horse race/dog race or games of mere skill. The Gaming Legislations in most states differentiate between skill games vs. chance games, with some exceptions like Andhra Pradesh, Telangana, Odisha, and Assam.
Indian Supreme Court has interpreted the term "games of mere skill" used in the Gaming Legislations to mean the competitions where success depends on a substantial degree of skill and despite there being an element of chance. If a game is preponderantly a game of skill it would nevertheless be a game of "mere skill". [Refer to State of Andhra Pradesh v. K Satyanarayana, 1968 AIR 825; Dr. K.R. Lakshmanan v. State of Tamil Nadu and Anr., 1996 AIR 1153 ]
We may also note that the apex court of India has held that the competitions which involve substantial skill are business activities protected by Article 19(1)(g) of the Constitution (the right to practice any profession or to carry on any occupation, trade or business). The stand taken by the Supreme Court has been relied on by various High Courts over the period of time in deciding the questions on the legality of skill-based games.
Fantasy Sports for real money – Game of Mere Skill?
As said earlier, the Gaming Legislations are decades old and have not been enacted keeping in mind the advent of the internet and consequent technology advancements. Fantasy sports, although played since the 1950s have gained traction in the digital era.
Fantasy Sports are the games that occur over a predetermined number of rounds in which participating users select, build and act as managers of their virtual teams (constituted of real players or teams) that compete against virtual teams of other users, with results tabulated based on statistics, scores, achievements, and results generated by the real individual sportspersons or teams in certain designated professional sporting events. 
The winner of such a fantasy sports game is the participant whose virtual team accumulates the most number of points across the round(s) of the game. The users are required to pay an entry fee and all money paid by users is pooled and is allotted to the top users in a predetermined ratio.
Varun Gumber Case – Dream11 Fantasy Cricket
The question of whether fantasy sports are games of mere skill or not first came up before the Hon'ble Punjab and Haryana High Court in Shri Varun Gumber v. Union Territory of Chandigarh and others, CWP No.7559 of 2017, Judgement dated 18 April 2017.
This case dealt with the question of whether services offered by Dream11, which according to the petitioner is an activity of gambling and renders Dream11 liable for criminal prosecution and punishment under the penal provisions of the PG Act. 
The Court, while relying on the law laid down by the Supreme Court, had held that participant users are required to create a virtual team which would certainly require considerable skill, judgment, and discretion.
The Court further held that participants have to assess the relative worth of each athlete/sportsperson as against all athlete/sports persons available for selection and are required to study the rules and regulations of the strength of athlete or player and weakness also.
The Court has finally held that the fantasy sports offered by Dream11 are not activities of gambling and thus Dream11 is exempt from the application of provisions, including the penal provisions of the PG Act.
The Court concluded that the activity of Dream11 with due registration and paying the service tax and income tax is having protection granted by Article 19(1)(g) of the Constitution of India. The judgment of Punjab and Haryana High Court was challenged before the Hon'ble Supreme Court by a Special Leave Petition ("SLP") which was dismissed vide order dated 15 September 2017.
Gurdeep Singh Sachar case – Fantasy Sports for real money
In Gurdeep Singh Sachar Vs. Union of India and Ors (2019)75GST258(Bombay), a similar question came up before Hon'ble Bombay High Court on whether the activities of Dream11 in the guise of online fantasy sports gaming is gambling/betting/wagering and therefore shall attract penal provisions of PG Act, and whether the petitioner violated the provisions of Goods and Service Tax Act and the Rule 31A of CGST Rules, 2018 by evading of Goods & Service Tax (GST) payable by it.
Rule 31A deals with the determination of the value of supplies in betting, lottery, gambling, and horse racing. Referring to the Varun Gumber case (Supra), the Court held that the activities in question are games of skill.
In regards to the question of GST evasion, the Court held that amounts pooled in the escrow account are actionable claims to be distributed among the winners and are not in relation to activities of the lottery, betting, and gambling. Therefore, such actionable claims are not considered as 'supply of goods or 'supply of services, and Rule 31A of CGST Rules, 2018 has no application.
You may like: GST on horse racing clubs case before Karnataka High Court
The special leave petitions filed by the petitioner in the original matter and Union of India against the decision of Bombay High Court were dismissed by the Hon'ble Supreme Court vide order dated 13 December 2019. While dismissing so, liberty was given to the Union of India to apply for a review insofar as the GST aspect is concerned before the Hon'ble High Court of Bombay.
Subsequently, a 3-judge bench headed by then Chief Justice of India SA Bobde had stayed the operation of a Bombay High Court judgment ruling Dream11 to be a game of skill and that it was paying Goods and Services Tax (GST) appropriately, based on a Special Leave Petition (SLP) filed by the state of Maharashtra, which will be decided by an appropriate bench.
Rajasthan High Court on Fantasy Sports
The Varun Gumber case and Gurdeep Singh Sachar were followed by another case before the High Court of Rajasthan which vide order in Chandresh Sankhla v. State of Rajasthan and Ors., CWP No. 6653/2019, Judgement dated 14 February 2020 has held that the issue is no more res Integra in view of the pronouncements by the Punjab and Haryana High Court and Bombay High Court and further the SLPs have also been dismissed against the orders of these High Courts.
A few weeks back, the Supreme Court while dismissing an appeal against the Rajasthan High Court judgment noted that the issue of whether fantasy sports is a game of skill or amounts to gambling is no longer res Integra (a question yet to be determined) and stated that it had dismissed similar petitions against the Bombay and Punjab & Haryana High Court judgments from the year 2017 onwards and that it was not inclined to entertain this petition.
Recently, the Rajasthan High Court (Jaipur Bench) comprising Chief Justice Indrajit Mahanty and Justice Satish Kumar Sharma had dismissed yet another PIL filed by Udaipur resident Saahil Nalwaya asking the state government to frame legislation prohibiting or regulating online gaming, including fantasy sport. Dream11 is not a party to this fresh PIL before Rajasthan High Court. A similar PIL was also dismissed by Rajasthan HC earlier in Ravindra Singh Chaudhary v. Union of India & Ors. vide order dated 16.10.2020.
Self Regulatory Mechanisms by Fantasy Sports platforms like My 11 Circle
"Federation of Indian Fantasy Sports" (FIFS) is a Section 8 Company incorporated in the year 2020 under the Companies Act, 2013, for the purposes of self-regulation and promotion of best practices in online fantasy sports services and contests offered in India. It has issued a Charter for Online Fantasy Sports Platforms dealing with fair play, responsible gaming, online security measures, user verification standards, ethical advertising, and measures for complaints.
NITI Aayog, a policy think tank of the Government of India, released Draft Guiding Principles for the Uniform National-Level Regulation of Online Fantasy Sports Platforms in India, in December 2020. In the draft, Niti Aayog advised fantasy platform operators to keep statistical data to track player/user performance on their platforms and submit the same to the self-regulatory organisation (FIFS) periodically to demonstrate that the formats deployed by the operator are skill predominant.
Conclusion
The conundrum surrounding the legality of fantasy games acted as a bottleneck to the fast-paced advancement of the online gaming industry in India. While the question of fantasy sports is gambling or not appears to have been settled, there is, however, the SLP filed by the Maharashtra government still pending.
While the above-referred cases are under the decades-old legislation, the States of Andhra Pradesh, Telangana, Tamil Nadu have recently enacted amendments to Gaming legislation to not permit participation in the cash formats of any online games.
The Madras High Court has recently struck down the amendment to gaming laws, holding that by imposing a wide-ranging, complete ban, the amendment has failed the least intrusive test and fallen afoul of Article 19 (1) (g) of the Constitution. The Court noted that the challenged amendment was capricious, irrational, excessive, and disproportionate.
Assam (Assam Gaming and Betting Act, 1970) and Odisha (Odisha Prevention of Gambling Act, 1955) prohibit all forms of gaming including games of skill. Meanwhile, the States of Sikkim, Nagaland, and Meghalaya require entities to obtain a license to provide paid gaming services. Recently, Karnataka passed a law prohibiting online gaming which is yet to be notified.
| | |
| --- | --- |
| States | Legislations |
| Sikkim | Sikkim Online Gaming (Regulation) Act, 2008 |
| Nagaland | Nagaland Prohibition of Gambling and Promotion and Regulation of Online Games of Skill Act, 2016 |
| Meghalaya | Meghalaya Regulation of Gaming Act, 2021 |
Laws that mandate license for online gaming
Fantasy Sports in India FAQ
Are fantasy sports like Dream11 legal in India?
Yes, fantasy sports are legal in India, except in the States of Andhra Pradesh, Telangana, Odisha, and Arunachal Pradesh where a specific prohibition is in place. Sikkim, Nagaland, Meghalaya require an operator to obtain a license. Karnataka recently passed an amendment to the Karnataka Police Act, 1963 to ban all forms of gaming that involve any game of chance. The amendment is yet to be notified.
Are fantasy sports a game of skill?
Yes, the Punjab and Haryana High Court in the Varun Gumber case had held that playing the Dream11 fantasy games involves considerable skill, judgment, and discretion and that success on Dream11 arises out of users' exercise, superior knowledge, judgment, and attention and therefore fantasy sports are legal. This principle was later reiterated in other cases that followed:
Is there any protection for playing fantasy sports as a profession?
The courts have held that games of skill including fantasy sports are protected under article 19(1)(g) – freedom to the profession, trade, or business of the constitution of India.
Disclaimer: Fantasy games involve an element of financial risk and may be addictive. The information provided in this post does not, and is not intended to, constitute legal advice; instead, all information, content, and materials available here is for general informational purposes only.