EvenBet Gaming, a leading developer and software provider for operators like MPL among others with over more than 15 million active players from India, announced the introduction of a popular card game 'Teen Patti' on its turnkey platform today. The EvenBet platform offers over 30 variants of online poker in addition to rummy, call break, and other card games. Teen Patti will be available for all the accessible devices via desktop, web, and mobile applications.
The game of teen patti has a strong connection with the Indian cultural heritage and a long history as it is played during festivals in India. The rules are quite similar to poker, interestingly the difference would be the game may accommodate up to eight players. The game completely relies on the skills and the ability of the player to learn winning card combinations by keeping in mind the cards that were already played by the opponents, to estimate the potential winning chances.
As per the Octro Inc. report the growth of teen patti has increased almost 800% with active users exceeding 150 million in India in 2020. Foreseeing the overall market growth, the estimates highlight its likeness among the masses which probably now have more than 200 million active players in the country. The number of teen patti players in India exceed the number of poker players. The game will increase the liquidity of poker in India by 20-25%.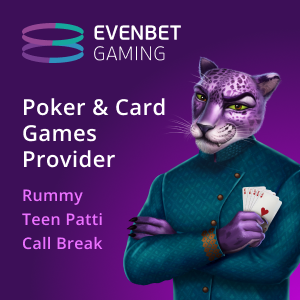 According to EvenBet Gaming CEO Dmitry Starostenkov "Being an extremely popular game at social gatherings in India and across South-East Asia, we believe it will bring additional value and more players to the projects already using the EvenBet platform and poker. We have about 50% of the poker market in India and we aim to be absolute leaders in the card games space".
Talking about the growth prospects, he further states,"For EvenBet, liquidity is the key growth factor for revenue streams from p2p games. The operator's profit will correlate with the liquidity increase. Customization extends to the branding and company-specific design to the offered games. The market capacity for teen patti is enormous in India and with the right marketing approach this game is bound to succeed."
EvenBet Gaming has a positive experience in creating and launching market-specific card and skill games: in addition to the classic poker variations, Evenbet Gaming portfolio now includes, call break, rummy, backgammon, big two, turkish poker, and now teen patti. All these games are developed in-house and fully customisable; an operator may choose any games from the set or add all of them.
Recently named the Best Platform Provider at SPiCE Awards 2022 (Goa, India), EvenBet provides software for operators with more than 15 million active players from India, such as MPL, PokerSaint, 9stacks, and PokerHigh. Adding the most popular card game will strengthen EvenBet partners' position in the market.