Online poker platform PokerBaazi today became one of the top 10 online poker sites globally for the first time as per the global poker listing website Poker Scout. The news comes at a time when PokerBaazi is hosting the 2023 edition of National Poker Series India (NPS), a poker tournament series.
Expressing his excitement, Navkiran Singh, Founder and Chief Executive Officer, Baazi Games, said, "It is a proud moment in Indian poker history. This recognition reflects our vision and commitment of building a comprehensive ecosystem for Poker in India which will take this skill sport to the Indian households. We feel strongly that the golden era of Poker in the country has just begun and are proud to be leading this journey with PokerBaazi."
The company rolled out its latest app update – PokerBaazi 3.0 – a few days back. This update was launched with a digital campaign called #UpGreat and offers, as the company claims, a faster and seamless user interface (UI) and superior gameplay experience. Poker has been gaining popularity in India. PokerBaazi, with its existing 30 lakh plus user base, is a major player and contributor to poker's rise in the online gaming industry.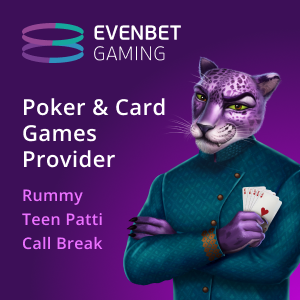 As per a recent report by Lumikai, India's gaming market already stands at US$2.6 billion in FY22 and is projected to reach US$8.6 billion in FY27. Real Money Gaming (RMG) revenues currently constitute 57% of the market size. India crossed the mark of half a billion gamers in FY22 up from 450 million in 2021.