National Poker Series India (NPS), hosted on PokerBaazi, has announced the 2023 edition of the tournament with a campaign called, 'Ab India Khelega Glory Ke Liye'.
The campaign features a series of two films that highlight the pride and glory that comes with winning the National Poker Series. According to PokerBaazi, it aims to inspire and motivate players, both men and women to strive for greatness in the game and to establish poker as a sport that demands the highest levels of skill and strategy. Meanwhile, over the past two years the series has had more than 180,000 entries.
This year's edition will award gold, silver and bronze medals to podium finishers in a total of 107 tournaments and three NPS podium medals for the finishers with the highest medal tallies who will be crowned the NPS India 2023 champions. The tournaments will also award prize money of Rs 25 crore and begin on March 29.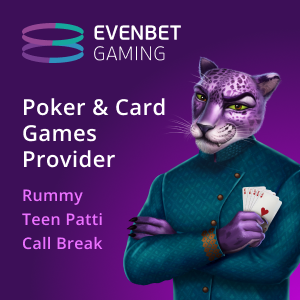 On the announcement, Navkiran Singh, founder & CEO, Baazi Games said, "We, at PokerBaazi, are honoured to host the National Poker Series India once again. The two editions' record-breaking entries across demographies and regions were a testament to establishing the NPS legacy. We see NPS India as the true podium of glory for the sport of poker in India and are excited to celebrate the champions in the making."
Nitin Pradhan, the creative head at DDB Mudra South said,"We wanted to talk to poker enthusiasts and new poker players alike and give them a clear sense that poker, more than just entertainment, can also be life-changing if you play it right. And National Poker Series hosted on PokerBaazi is your opportunity to experience that. A simple yet interesting creative device of life-changing in an instant for a youngster, landing him/her in the spotlight helped us capture this thought in a short duration."
The campaign is launched across multiple platforms, including television, OTT, digital platforms, outdoors and social media.