PokerBaazi is celebrating the season of love with their unique campaign "Don't be single, be the Golden single" this Valentine's Day.
Valentine's Day often comes with a pertinent question – "What to do on Valentine's day when you are single?" PokerBaazi has got your back, as they urge youngsters to enjoy their own company and secure an opportunity for a direct entry into the National Poker Series' marquee event – "The Golden Rush" with a 1 Crore prize pool.

Also read: Xbox Cloud Gaming launches on Xbox Series X|S and Xbox One Consoles
PokerBaazi added the age-old question to its FAQs section and made it rewarding with a fun integration on the application. For the reward, on 14 February, during any Texas Hold'em game, if the participant is dealt Queen and King of Hearts, they can just take a screenshot and add it to their Instagram story tagging @poker_baazi and @nationalpokerseries to win a free ticket to the Golden Rush Tournament at the National Poker Series 2022 to be held between 6 March to 20 March.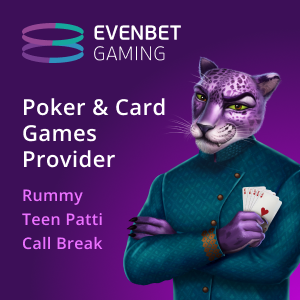 National Poker Series 2022, heralded as the most glorious event in Indian poker, has announced a prize pool of 18.5 crores for 84 tournaments across 15 days. With 252 medals on the line to be awarded to podium finishers in all 84 tournaments and three NPS Podium medals for the three finishers with the highest medal tallies, this year's National Poker Series will once again have Golden Rush as one of its marquee events.
Additionally, NPS Podium finishers will get to play the world's biggest international poker event in Las Vegas, USA. The tournament series offers both new and experienced poker players a chance to win gold, silver, and bronze medals, as well as the renowned title of India's national poker gold medalist. NPS India 2021 was national in the truest sense, with players from across the country competing for 192 medals across 64 tournaments. 83000+ entries took the ₹15 Crore prize pool to a mammoth Rs19.41 Crore.