Witzeal Technologies, a gaming technology company, has surpassed 35 million (3.5 crore) registered users. The brand launches new games and features every quarter which it believes has played a significant role in reaching the milestone. In the recently ended fiscal year, Witzeal has launched Ludo and CandyCash on their multi-gaming platform, Big Cash and have also launched a separate rummy-based app called RummyKhel.
With its player persona-based user acquisition activities and bonus campaigns to existing users, Witzeal Technologies claims it has attracted and retained users with high efficiency. The platform hosts a number of games that cater to a wide-ranging audience, including ludo and rummy, which bring in users of various ages and locations. By allowing new users to sample their games and retaining existing users, the company claims it has created a devoted user base for its platform.
Mr. Ankur Singh, Founder and CEO, Witzeal Technologies, said, "With the Indian online gaming industry poised for tremendous growth, we at Witzeal Technologies are thrilled to be at the forefront of this revolution. Our latest launches in the card and casual gaming segments are a testament to our commitment to becoming one of the world's leading online gaming companies. Our mission is to revamp traditional Indian games, taking our users on a nostalgic trip down memory lane while also offering a range of games with exciting challenges and opportunities to learn. We are determined to leave our mark on the industry and deliver unparalleled gaming experiences to our users."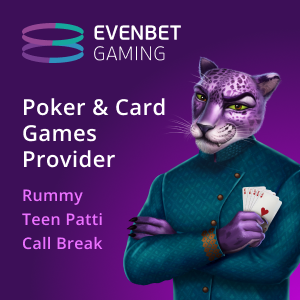 With a focus on growth, Witzeal Technologies says that it has established itself as one of the top 5 RMG operators in India. Currently, the platform has over 20 games on Big Cash, attracting 3.5 crore registered users with a significant YoY growth in terms of revenue.
The company strives to provide a safe and authentic platform for its users with its partnership with SHIELD, a global risk intelligence company, and its RNG certification for fair play in card-based gaming.
"A unique gaming experience along with utmost digital security is our primary goal. As all our games are developed in-house it helps us ensure a unified and exciting gameplay experience. By further leveraging tech-based features, we are determined to offer an unparalleled gaming experience to our users." Mr. Singh further added.
Witzeal's recently launched RummyKhel app, offers multiple variants like point rummy, pool rummy, and deal rummy, ensuring fair play and anti-fraud detection for their RNG-certified RummyKhel game.
On the other hand, CandyCash and Ludo allow players to participate in multiple contests against real players, with a relatively short playtime ideal for quick gameplay.