The year 2020 has been remarkable for the Indian real money gaming industry. Cheap access to smartphones, high-speed 4G internet, and pandemic-induced boredom made online gaming a go-to source of entertainment. This momentum continued in 2021 both in terms of subscriber numbers and investments.
As per the BCG-Sequoia report released last month, mobile gaming is expected to triple to a $5Bn+ market opportunity by 2025. Gaming is currently a $1.8Bn sunrise sector in India. Between 2017-20, the Indian gaming market grew at 38% CAGR compared to 10% and 8% in USA and China respectively. The report estimates that 46% of the Indian population has access to the internet and 22% of the population plays at least one mobile game.
Gaming is a sector that is under constant scrutiny from the government. Industry leaders, politicians, venture capital investors, lawyers played a crucial role in the sector last year and they are expected to continue the role in the next year as the eco-system evolves. In this background, we bring out 22 persons who may create a longstanding impact on the RMG industry in 2022: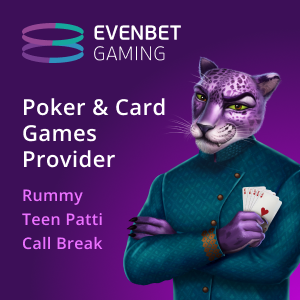 *The list is in no particular order
1. Harsh Jain – Co-founder and CEO at Dream11
Harsh Jain is the co-founder and CEO of the fantasy online gaming leader Dream11. Founded in 2008, the fantasy sports platform was the first Indian gaming startup to become a unicorn in 2019. Last month, the company raised $840 million funding at an $8 billion valuation.
With a war chest, the fantasy sports leader is in discussions with multiple rummy startups in a bid to expand its real-money gaming line. At the helm of the affairs, Harsh Jain is a key figure not just in Dream11 but in the entire gaming ecosystem. Recently, Jain has set up an investment fund to back early and mid-stage startups.
Update on 4 January 2022: We have received a response from Dream11 stating there are no plans to foray into card games including rummy.
2. Sai Srinivas Kiran G – Co-Founder and CEO at Mobile Premier League (MPL)
Sai Srinivas is the co-founder and CEO of the real money competitive mobile gaming platform MPL. MPL became the second gaming unicorn this year. With over 50+ games on its app on iOS and Android and over 70 million user base, MPL is the leader in the real money gaming space.
While Dream11 is on date limited to fantasy sports, MPL has interests across several real money games. It is no doubt that Sai Srinivas's decisions will have an impact on the overall direction of the sector in 2022 and in the long term.
3. Jaydev Mody, Chairman, Delta Corp
Jaydev Mody is India's casino czar. His company Delta Corp operates casinos in Goa, Daman, Sikkim, and Nepal. In 2017, the company acquired Adda52.com, the largest online poker destination in India. This was followed by a 19.5% stake acquisition in fantasy sports site HalaPlay, in which it co-invested along with gaming company Nazara Technologies. Adda52 is in discussions to raise significant funding in 2022 and foray into other games in addition to poker.
Delta currently has 2000+ gaming positions in offshore and online gaming locations across Goa, Daman, Sikkim, and Nepal. Delta also operates the online fantasy portal leagueadda.com. An established name in the real money gaming sector, Jaydev Mody is a key name to watch for in 2022 as brand Deltin looks to increase its footprint in the online gaming space.
4. Nitish Mittersain – Founder and Managing Director – Nazara Technologies
Nitish founded Nazara in 1999 making it one of the first movers in the online gaming space. The gaming company became the first Indian real money gaming entity to get listed on public markets this year. While Mittersain often invests in his personal capacity, his gaming conglomerate has been on an acquisition spree of sorts in recent times.
5. Prithvi Raj Singh – Founder – Gameskraft
Gameskraft Prithvi Raj Singh is the founder of Gameskraft, one of the fastest-growing startups in the online gaming sector. The startup launched in 2017, soon became one of the leading entities in the real money gaming space. In September, the gaming firm bought a commercial property worth Rs 130 crore in Bengaluru attracting a lot of eyebrows.
In a series of raids in Bengaluru in November, the GST Intel team found tax evasion by GamesKraft. The department is investigating the valuation of supplies by Gameskraft under the GST regime while offering discounts – the outcome of which will be crucial not just in the gaming sector. Several laptops and hard drives have been seized. Subsequently, the bank accounts of the company were seized. The company challenged the seizure in the Karnataka High Court which stayed orders passed by the Directorate General of GST Intelligence.
Gameskraft is one of the petitioners in cases before Madras and Karnataka High Courts that challenged the online game ban law enacted by the respective states. At the helm of Gameskraft, Prithvi Raj Singh is expected to be in limelight in 2022.
6. Bhavin Pandya, CEO – Games24x7
Bhavin Pandya co-founded Games24x7 in 2006. As a CEO, he has led the company's operations and game development in its hyper-growth phase. With 70 million players across its platforms, Games24x7 is now among the top online real money gaming operators in the country. As a key executive of a top gaming operator in India, Bhavin's actions would be closely watched in 2022 by the industry.
7. Saumya Singh Rathore – WinZO Games
Rathore is the Co-founder of WinZO, a vernacular real money entertainment platform backed by marquee investors like Kalaari Capital. This is the second venture of Saumya. In her first venture, Rathore has built Zostel & ZO Rooms, a Tiger Global-backed chain of backpackers hostels. In July, WinZO received $65 million in funding from Griffin Gaming Partners.
In September, the Company has announced the launch of a $20 million fund for the Indian game developer ecosystem. Last month, WinZO has partnered with Kalaari Capital to launch an investment initiative Gaming Lab to encourage and support the gaming ecosystem in the country. The Gaming Lab will invest up to $1 million in each of the investee companies across all forms of interactive apps in India.
Her Co-founder Paavan Nanda is one of the petitioners in the case before the Karnataka High Court challenging the constitutional validity of the recently enacted online gaming ban law. WinZO and Rathore along with Paavan are petitioners before the Odisha High Court challenging the constitutional validity of decades Odisha Gambling Act, 1955
8. Rakesh Jhunjhunwala – Legendary investor
Rakesh Jhunjhunwala is a legendary Indian stock trader and investor. He manages his own portfolio as a partner in his asset management firm, Rare Enterprises. Jhunjhunwala backed Nazara became the first Indian gaming company to get listed in public markets this year.
Jhunjhunwala is known as the 'Warren Buffett of India' and his moves – investments, exits are closely watched by the financial market watchers. An investment by Jhunjhunwala is seen as an approval of the business model. The ace investor also has a stake in casino operator Deltin.
9. Lottery King Santiago Martin
Santiago Martin, also known as 'Lottery King' Martin, the owner of Future Gaming and Hotel Services (P) Ltd) is a business tycoon hailing from Coimbatore who built his business empire by printing and distributing lottery tickets. Future Gaming now handles government paper lottery schemes for the northeast governments with a near-monopoly.
Not directly linked to real money gaming, Martin still exerts influence in the policymaking of real money games through his Lottery Federation. The federation recently wrote to the GST Group of Ministers and Amit Shah for regulation and higher taxation of online gaming.
10. James Sangma – Cabinet Minister, Meghalaya Government
Cabinet minister James K Sangma played a crucial role in the enactment of the Meghalaya Gaming Regulation Act, 2021. "In order to regulate gaming within the state and to bring revenue to the state government, we felt it necessary to enact a law for the same," James said in January this year. He is also the brother of Chief Minister Conrad Sangma.
With this law, Meghalaya became the third northeast state to enact a gaming regulation law. The law is expected to be implemented this year with James Sangma as the key government face.
11. Basvaraj Bommai – Chief Minister, Karnataka
The Karnataka government headed by Basavaraj Bommai enacted the online gaming ban law this September. The background for the law, however, began when Bommai was Home Minister in the cabinet of his predecessor B. S. Yediyurappa. As a Home Minister, he announced in 2020 that the government is working on a gaming ban law.
With the law challenged before Karnataka High Court, an unfavourable decision for the government may lead the Karnataka government to the Supreme Court joining the Tamil Nadu government which already had filed an appeal against the Madras High Court decision that quashed the online gaming ban law enacted by Tamil Nadu. Karnataka is a major market for gaming operators which they cannot afford to lose making Bommai the person in the spotlight.
12. Sushil Modi, Rajya Sabha member and former Deputy Chief Minister, Bihar
A career politician, Sushil Modi is one of the fierce proponents of online gaming regulation. Last month, Modi urged the government to levy uniform tax on them and also come up with a comprehensive regulatory framework. "I would urge the Government of India (for) uniform tax for online gaming and I urge the government to come up with a comprehensive framework for the regulation of online gaming," Modi said while speaking in the Upper House during Zero Hour this month.
Rules of the online game- The Indian Express pic.twitter.com/USLIrFB3I1
— Sushil Kumar Modi (@SushilModi) December 30, 2021
13. Anbumani Ramadoss, Rajya Sabha member
Ramadoss is a member of the Rajya Sabha from Tamil Nadu. He along with his father Pattali Makkal Katchi (PMK) founder, Dr. S. Ramadoss often brings into the limelight the suicides from Tamil Nadu due to real money gaming addiction. The father-son duo part of the AIADMK alliance was instrumental in the enactment of the online gaming ban law by the Edappadi K. Palaniswami government. He urged the DMK government to bring in a new law after the High Court struck down the law as unconstitutional. The father-son politician duo is expected to exert pressure on the DMK government in 2022 to bring in a new law to ban online gaming.
14. Shailendra Singh, Managing Director, Sequoia Capital India
A report by BCG-Sequoia last month found that gaming in India is still a sunrise sector and a $5 bn opportunity in the near future. Shailendra is one of the six Managing Directors in Sequoia India. He led Sequoia's initial investment in now gaming unicorn MPL. He is expected to lead more investments into this sector in the coming year.
15. Rajan Anandan, Managing Director, Sequoia Capital India
As head of Google India & Southeast Asia, Rajan has played a vital role in expanding the search engine giant's footprint in India's internet ecosystem. He is also one of India's most prolific angel investors. Joining Sequoia in 2019, he now plays a key role in funding seed rounds through Sequoia's early-stage focussed Surge Fund. He along with Shailendra Singh form a formidable duo leading Sequoia's early-stage investments.
16. Vani Kola, Managing Director at Kalaari Capital
Vani leads Kalaari Capital, an early-stage, technology-focused venture capital firm based out of Bengaluru, Karnataka. Kalaari is an early investor in Dream11. Recently, the homegrown VC fund has invested in WinZO Games along with launching a Gaming Lab to co-invest with WinZO in early-stage gaming companies.
With a proven track record of investing in scalable businesses, Vani has recently shifted focus into gaming, esports. It is no doubt that her investments will make a long-lasting impact on the gaming sector.
17. Mukul Rohtagi, Senior Advocate
Mukul Rohatgi is a senior advocate and was the 14th Attorney General for India. After his resignation from the top government post, Rohtagi reverted to his private practice. He now represents clients in several high-profile matters. In 2021, Rohtagi represented gaming companies like Dream11 and the Federation of Indian Fantasy Sports before various fora. He is one of the lead counsel in the case before the Karnataka High Court that challenged the constitutional validity of the State's online gaming ban law.
18. Dr. Abhishek Manu Singhvi. Senior Advocate and Politician
Dr. Singhvi is a senior advocate and a member of the Rajya Sabha. He is a go-to counsel for several gaming companies. He represented a petitioner in the landmark Madras High Court case that quashed the gaming law as unconstitutional. Recently, he argued before the Karnataka High Court challenging the validity of the gaming ban law. As a member of the Rajya Sabha, he also takes part in important legislative discussions and often raises queries in the upper house involving the gaming sector. He along with Rohtagi is expected to represent even more clients as states seek to regulate or impose bans on the sector.
19. Suhaan Mukerji, Partner, PLR Chambers
Suhaan is a founding partner of the Delhi-based law firm PLR Chambers. Suhaan regularly advises gaming firms on legal and regulatory aspects. As a lawyer for Gameskraft, he briefed senior advocates Dr.Abhishek Manu Singhvi and Mr.Mohan Parasaran in challenge to the Tamil Nadu government ban legislation before Madras High Court. He again briefed Dr. Singhvi in the case challenging the Karnataka government law.
20. Deepak Pandey, IPS, Maharashtra cadre
Deepak Pandey, an IPS officer of the 1999 batch, took over the charge of Nashik Police Commissionerate in September 2020. He gained the national limelight for arresting Union Minister Narayan Rane over the 'slap Uddhav' remark. He is perceived as close to the ruling Shiv Sena and party spokesman Sanjay Raut.
In September, the Nashik Commissioner of Police submitted a detailed report to the Maharashtra Legislative Estimates Committee recommending amendments to the existing Maharashtra Prevention of Gambling Act, 1887. He often conducts press conferences against online real money gaming. As the Legislative Estimates Committee discusses the amendments next year, Pandey's recommendation may be vital in shaping the sector in the country's business capital.
21. Roland Landers, CEO, All India Gaming Federation (AIGF)
Roland Landers is the CEO of AIGF the apex industry body for online skill gaming in India. AIGF has a robust advisory panel and a skill games charter that the members are required to adhere to self-regulate the industry. AIGF is one of the petitioners before the Karnataka High Court and Madras High Court challenging the constitutional validity of the respective state ban laws. At the helm of AIGF, Roland will be a key figure in 2022 in policy making impacting the Indian real gaming sector as the state governments try to enact laws regulating the sector.
22. Rameesh Kailasam, CEO – India Tech
Rameesh is the CEO of IndiaTech.org, a think tank and industry group for India's new generation of internet companies. Gaming unicorns MPL and Dream11 are members of IndiaTech. As the CEO of India Tech, Rameesh argued that bad regulations could play a spoilsport for online gaming.
An influential lobbyist, Rameesh is expected to exert influence on regulators as important issues concerning regulation and taxation are expected to be dealt with in 2022. Earlier this month, IndiaTech wrote to the Ministry of Electronics and IT suggesting a 'Code for Responsible Online Gaming' framework.