Indian men's team competing in the bridge competition at Hangzhou Asian Games 2022 defeated their Chinese counterparts in the semi-final on Wednesday, securing their place in the Gold Medal match to be held today.
The match was intense with India starting slow at the beginning and facing defeat in the first round with a scoreline of 16-36. However, the team made a comeback in the second round and defeated the hosts by 37-24. The final round also saw the Indian team winning with a scoreline of 35-25.
The Indian men's team consists of Jaggy Shivdasani, Sandeep Thakral, Rajeshwar Tiwari, Sumit Mukherjee, Raju Tolani and Ajay Khare with Kaustabh Bendre and Sayantan Kushari as reserves. They are being coached by Joyjit Sensarma.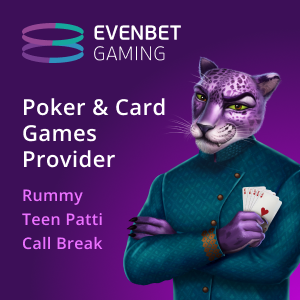 India will now face Hong Kong in the final after the latter defeated Japan.
What is Bridge?
Bridge or Contact Bridge is one of the most popular card games played around the world. The game is played by four players split into teams of two on each side with each player getting 13 cards from a deck of 52.
The first move called 'trick' is played by the player winning an 'auction'. The subsequent trick is played by those who win the previous round. During the game, the other players have to follow up with the same card (for example, heart) in the trick except for those who do not have the same type of card with them.
The player with the highest value card wins the trick. Cards are ranked similar to any other regular card game with Ace being the highest followed by King, Queen, Jack and all the number cards as per their value. The World Bridge Federation is currently the governing body for bridge tournaments at the international level.
India also has a number of talented bridge players including a 13-year-old Anshul Bhatt who was crowned the youngest champion of World Junior Bridge Championship in Italy in 2022.
Microsoft co-founder and philanthropist Bill Gates, who is a fan of Bridge and often plays it in his free time, met with Bhatt and congratulated him during his trip to India last year.
"It was fun meeting Anshul and picking his brain about our favorite pastime. Anshul, if you're ever looking for a new bridge partner, I'm your guy!" he said at the time.