Kapil Rathee has been promoted to co-founder of Junglee Games, according to the latest announcement from the company. Kapil is said to be a vital member of the firm's senior leadership team, and this promotion is said to honor his significant contributions to the firm.
Rathee joined the group in 2015 as the vice president (VP) of products and was promoted to chief product officer in 2017, further assuming the role of president shortly after in 2018. Before starting TapAndEat, an F&B software firm, he also worked as a strategy and business consultant, according to exchange4media.
Founder and CEO of Junglee Games, Ankush Gera, said, "Kapil and I have been working together for the last eight years and have been looking to build upon opportunities to strengthen our partnership and collective impact further. Kapil's contribution to Junglee Games has been phenomenal, and his dedication deserves this recognition."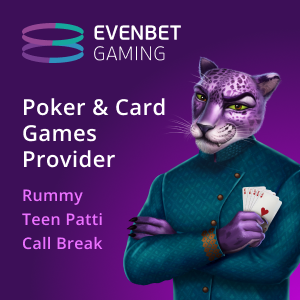 "I couldn't be happier for him, and I look forward to seeing him grow in this new role. With the industry witnessing rapid growth, at Junglee we are confident about our approach towards investing and rewarding exceptional human capital within the organization," the CEO said.
"I'm excited and privileged to continue my incredible journey at Junglee Games in this new role. While I've always operated from an ownership mindset, it is heartening to see the growth-centric culture in the organization," Rathee said on his promotion.
"This elevation is an opportunity to build from a more strategic vantage point. As we continue to see the incredible scale in the business, my focus is to accelerate our current trajectory and make Junglee's brand synonymous with skill gaming," he further added.
Junglee games are said to be one of the biggest online skill game operators in the Indian market currently. The company operates some well-known gaming platforms like Junglee Rummy and Howzat.