In a recent interview with the Economic Times, CEO of Nazara Technologies, Nitish Mittersain, revealed that the company is currently working on a larger blueprint for real money gaming space amidst the newly released amendments to online gaming rules.
Speaking on the new legal framework and the effect it will have on the investors in the online gaming industry, Mittersain said that the new policies are some of the most significant changes made in the last two decades.
The government has started recognizing the potential of the gaming sector. Real money gaming has been the most significant revenue maker in the gaming industry, but there were many uncertainties regarding the game of skill and game of chance debate. With new TDS rules and online gaming laws, investors can finally have a definite answer to their questions.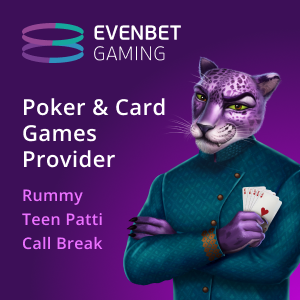 When asked about his views on the GST rate remaining 18% on gross gaming revenues, he said that if the decision for 18% on GGR goes through, it'll be the best news for the skill-based gaming Industry.
The interviewer also asked that the real money gaming scene currently is a small part of the company, so how does the clarity on these affect the company. Mittersain told that the clarity in online gaming is good news as a whole.
The company is currently bringing 5% of its revenue from real money gaming. As more and more clarity emerges, the company plans to ramp up its investments in that sector, he said. "The company is actively working on a larger blueprint for the real money gaming space, and you will surely hear more exciting news from our end on this space in the coming months."
Talking about the current 30% TDS on net winnings, Mittersain told that since the company is not that active in the RMG sector, it has almost no effect. For users, it will most likely be a type of short-term worry, which they will get used to after some time.
The new policy, according to Mittersain, is fair and in the right direction towards the proper regulation of online gaming.
Mittersain also said that the skill gaming industry will see massive growth in the coming years with these new policies. These new policies are aimed at bringing in new investors as well as protecting the consumers.
The illegal companies and grey market operations will be significantly reduced once these policies and rules are fully implemented, he added. With these illegal companies gone, gaming companies can move towards responsible gaming and better outputs.