Popular singer/rapper Parmish Verma has partnered with banned betting website Lotus365 in a recent Instagram promotional advertisement. This is the second collaboration of the banned betting site after popular influencer and Bigg Boss contestant Puneet Kumar aka Lord Puneet Superstar also promoted the banned and illegal betting site.
In the video, Verma says that players can have a similar experience like casinos in Goa and Las Vegas on lotus365, in a completely misleading way as the Ministry of Electronics and Information Technology (MeitY) has banned the site from continuing its operation as the platform is illegal.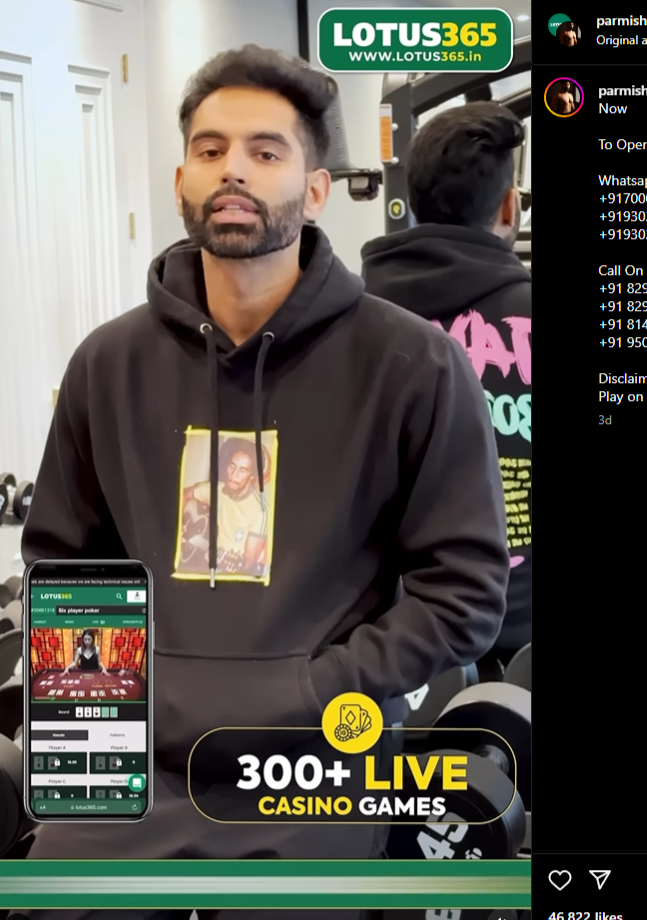 The website is currently operating through mirror domains and these celebrity advertisements are their usual attempts of luring in more people. The illegal betting company also does promotion through surrogate print and media advertisements.
Notably, these celebrities promoting illegal betting operators do not think twice about duping their loyal, innocent followers. Several other celebrities, including Parmish Verma in the current promotion, have disabled comments on their posts to avoid criticism.
These types of celebrity post do tend to attract a lot of users. Verma has over 2 million subscribers on YouTube and over 8 million followers on Instagram that can be easily manipulated into thinking that the illegal website is legitimate, and they might end up losing a lot of money.
People get lured to bet with celebrity influence, says report
A study done by Director Professor of IIM Rohtak, Dheeraj Sharma has revealed that these celebrity gambling advertisements have the highest chances to lure in users. The study consisted of over 1,000 people who revealed an increased interest in gambling when a celebrity was involved.
Many of these celebrities don't know that they can be charged with false advertisements under the Consumer Protection Act (CPA) 2019 and can be fined up to Rs 50 lakh. Furthermore, they can be barred from appearing in any for of advertisement for one year.
People who are unsure regarding the illegitimacy and banned apps information can check here.