Online poker card room 'PokerStars' have introduced a new game variation called for Indian market 6-Card Pot-Limit Omaha (PLO6). The PLO6 was already introduced back in 2020 for the global website.
The amount of cards handed to each player is the only significant variation from "regular" Omaha. The essential requirement that a player employs two cards from their hand and three cards from the board continue to apply. This means that your hand must be formed in Six Card Omaha by matching precisely three of the community cards with two of your six-hole cards.
Get ready to win big in PLO6 on PokerStars! Enjoy exciting 50% rakeback at 10/25 and higher tables. All you need is a minimum of 500 raked hands to qualify. Offer available from 16 to 22 Feb.

Don't miss out. Check out the link now: https://t.co/pk3UHfpEOe pic.twitter.com/cGrXPAZ0nS

— PokerStars India (@PokerStarsIN) February 20, 2023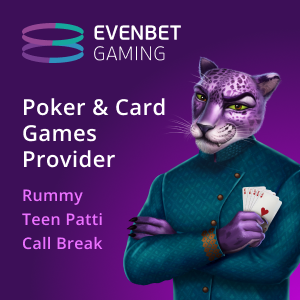 Owned by Flutter Entertainment, PokerStars is considered the world's largest real-money online poker site. The company started offering real money gaming in 2001, making it one of the oldest real money gaming platforms.
PokerStars also had many celebrities and sports personalities like Kevin Hart, Usain Bolt, Rafael Nadal, Cristiano Ronaldo and many more as part of their Celebrity team and a sports team called "Friends of PokerStars" and "SportStars."
Throughout the years, the company has started to provide multiple poker variations like Texas hold 'em, Omaha, HOSE, Mixed Hold'em and many more. The company officially entered the Indian market in 2018 but also had a downside as Indian players lost access to PokerStars global.
Muskan Sethi, the top female poker player in India, have also participated and is one of the top players in the PokerStars tournaments. Sethi was also one of the brand ambassadors for PokerStars and a member of Team Pro after PokerStars expanded its services to India.
Before being sponsored by PokerStars, Sethi received the First Lady award from the President of India in January 2018. This prestigious honor in India was given to 112 women who had made history in their different fields, and she was acknowledged as India's first-ever female professional poker player.