The first day of the G2G Expo 2022 was a huge success with many big names in the industry attending and sharing their knowledge and insights with each other. Many others formed new connections and got to know other talented people from the industry.
The awards helped many hard-working companies and individuals working behind the scenes of the gaming sector in India to be recognized among many top individuals and greatly increased their standing in the market.
Before we take a look at the complete list of award winners let us look at some of the prominent awards and their winners.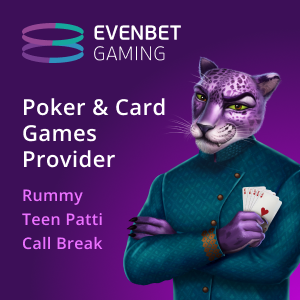 Innovator Of The Year – Awarded to the one that has proved everyone that they are the best when it comes to innovate new things in a market filled with similar services and Exchange22 did just that to sweep the Innovator of the Year award.
Journalist Of The Year – Keeping an eye on every change in the fast-paced Indian gaming industry and covering that aspect is no easy task. For this specific reason, Soumitra Bose, a veteran journalist with deep insights of the industry, received the Journalist Of The Year award.
Regulator Of The Year – Since the India gaming industry is moving forward at light speed there is always a need to work on regulating the different aspects of it to protect the users. Jayesh Ranjan, Principal Secretary, Industries & Commerce (I&C) and Information Technology (IT) Departments has been working hard on it and is recognized as Regulator of the Year.
Let us now look at the full list of award winners –
Best Online Poker Operator – Spartan Poker
Best Fantasy Sports Operator – MyTeam11
Best Rummy Operator – RummyCulture
Best Ludo Operator – Paytm First Games
Best Call Break Operator – Winzo
Best Multi-Gaming Platform – Mobile Premier League (MPL)
Innovator Of The Year – Exchange22
Best Skill Games Tech Provider (Indian) – Yudiz
Best Skill Games Tech Provider (Foreign) – EvenBet Gaming
Journalist Of The Year – Soumitra Bose
Best In-House Counsel – Dibyojyoti Mainak
Best Law Firm – Khaitan & Co.
Best Tax Practitioner – Hanish S
Regulator Of The Year – Jayesh Ranjan
Best Individual Legal Practitioner – Vaibhav Gaggar
Best Data Feed Provider – Sportradar
Best Marketing Agency – Valueleaf
Best Responsible Gaming Practices – A23
Best Customer Service by Online Gaming Company – Classic Rummy
Best Offshore Casino in Goa – Deltin Royale
Best Land-Based Casino in India – Casino Golden
Best Rummy Network – Taj Rummy