IPL 2023 is about to end, but what doesn't seem to end is banned betting websites continuing with their misleading illegal promotions. In the latest promotional Instagram posts, Lotus365 teamed up with YouTuber and actress Janani Ashok Kumar who can be seen promoting the illegal platform and encouraging people to use the banned app for betting on IPL matches.
Furthermore, the latest ad campaign attempts to portray Lotus365 as a legal website. However, it has been banned by the Ministry of Electronics and Information Technology (MeitY).
The video further tries to entice users with bonus offers on making their first deposit along with a variety of games to bet on and fast withdrawals without any documentation requirement which is illegal in India.
Janani Kumar claims that people are winning huge amounts of real cash every day which is being directly deposited into their bank accounts with fast withdrawal but the comments from many of these promotional videos tell a different story.
Conveniently, the comments on the video are disabled which seems to be the adopted practice now by these celebrities to stay away from criticism.
The other image post is from actress Priya Prakash Varrier, promoting Lotus365 on her Instagram page. While there seems to be no video posts, Varrier has previously shared image-based promotional posts for the banned betting website.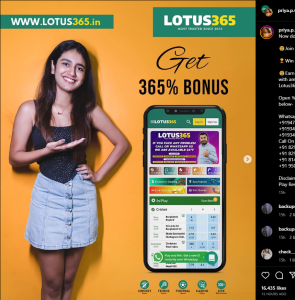 It is interesting to note whether the celebrities and influencers promoting these banned websites conduct their due diligence or not because if they did they would know endorsing such brands would be illegal. They can be sued for misleading and false advertisements under the Consumer Protection Act (CPA) 2019.
Furthermore, the adverts also claim that there is no tax levied at the time of withdrawing the winnings from these banned betting platforms which is actually a case of tax evasion.
People unsure of which platforms are illegal can check the list here.