Update [May 6, 2023 20:30]: Subsequent to our article, Junglee Rummy issued a clarification that it had restricted Tamil Nadu residents for cash games in accordance with the recent TN law notified in April. Customers are only able to play free games but are restricted from adding cash or playing real money games. G2G had noticed a scrolling disclaimer on jungleerummy.com website which stated that the residents of Tamil Nadu can also play cash games. Consequent to our article, the Company has issued clarification and fixed the incorrect disclaimer on its website. The 'Terms of Service' page which earlier did not mention Tamil Nadu in the restricted states, now mentions Tamil Nadu alongside Telangana, Andhra Pradesh, Odisha, Assam and Meghalaya. Article headline has been modified post this clarification.
—–Originally posted content below ——–
Junglee Rummy, a leading online rummy operator continues with operations in Tamil Nadu despite a recently enacted rummy ban law coming into effect in the state. Junglee Rummy is the lead petitioner in a case before Madras High Court where the earlier law banning online rummy was quashed as unconstitutional.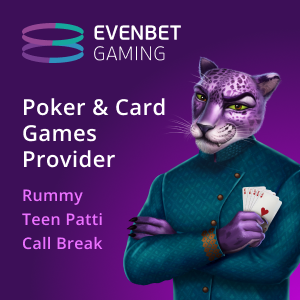 This recent law is a second attempt by the South Indian state. "Residents of Tamil Nadu can also play our cash games and tournaments," reads a notice on the website as response to the newly enacted law.
Indulging in online gambling / playing any online game of chance specified in the Schedule for money or other stakes is punishable with imprisonment of up to 3 months or a fine of up to INR 5,000 or both. Rummy and Poker are the specified games in the schedule.
Providing online gambling service or any online game of chance specified in Schedule for money or other stakes is punishable with imprisonment of up to 3 years or with a fine of up to INR 10,00,000 or both.
Despite these penal provisions, Junglee Rummy operating may be due to the fact that the earlier similar laws were ultimately quashed as unconstitutional.
In October 2021, Dream11 continued operations in Karnataka despite an online gaming ban law in force. The founders were booked for violation of the law. But in February 2022, the Karnataka High Court quashed these proceedings.The earlier experiences ultimately ended in favour of online gaming companies.
But earlier this month, the Madras High Court refused to grant interim protection to online gaming companies. Skill gaming industry body AIGF challenged the law before the Madras High Court. Junglee Rummy is also one of the petitioner in this case.
An earlier decision of Madras High Court quashing a similar law as unconstitutional is currently under appeal before the Supreme Court. This matter is tagged with a similar matter involving a decision by Karnataka High Court.